Paul William Joseph Schumacher, age 97, passed from this world, from this battlefield, on March 23,2020.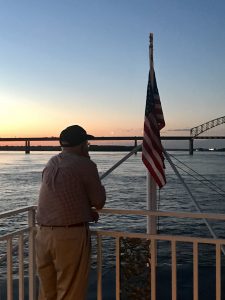 Have you ever met a great man; a man of his family, a man of his country, a man of his world? He passed at his home in Gravel Hill and will be buried with his life partner and wife Ada Ellen Schumacher, just as he always wanted.
He is survived by his daughter, Joyce, of Columbus Ohio; son, Kirby, of Dayton Ohio; and son, Kevin, and his wife, Linda, of Felton Minnesota, and granddaughter, Kristin Nelson, and her husband Nicholas; great-granddaughter, Alexandra, of Fargo, North Dakota, granddaughter, Lacy, her husband, Greg, of Minneapolis, and grandson, Kevin Philip, and his partner Sarah, of Robinsdale, Minnesota. He is survived by his sister, Doris Brammer, of Oakland City Indiana. He was preceded in death by his wife of 59 years, Ellen, his brother, Jack Schumacher, of St. Charles Missouri, and by his beloved grandson, Robert Paul Schumacher.
A second generation German, he was born in rural Indiana on January 30, 1923, and went to fight the Germans twenty years later. He entered France shortly after D-Day, fought through the hedgerows of France to Belgium and Western Germany, and confronted the Germans at the Huertgen Forest, the longest battle of WWII. Had a German sniper been two inches more accurate, his marriage, his family and his marvelous life would have never been. He crossed the Rhein River, helping to capture the bridge at Remagen before it was destroyed. He remained in Germany as part of the occupation force, and true to his nature, made many friends there, whom he would visit often in the years after the war. He was injured during the war, and was recovering at the Veterans Administration Hospital at Memphis Tennessee, where he met a nurse, Ada Ellen Huggins, fell in love and married.
He graduated from Indiana Tech University with a degree in engineering, and was employed by the Air Force, assisting with flight test operations, as well as the Mercury and Gemini space programs, after additional training in aeronautical engineering at The Ohio State University. He was employed and stationed at Wright Patterson Air Force Base in Dayton Ohio until he retired, with many profound congratulations. As a young engineer, he was flying with a test pilot near Dayton when the jet plane malfunctioned and crashed. Once again, he survived, but only with a painful back injury and period of hospitalization. Thank God he survived because organizations such as the Corinth Children's Theater, the Pleasant Site Volunteer Fire Department, the Ninth Infantry Division Association and many other community programs would have been without his care, skills and donations of time, money and effort.
He loved his wife, his children and his grandchildren, and thanks to his long life, he was able to spend wonderful time with his great granddaughter, who he often drove a thousand miles to see. He always opened his letters to his grandchildren with "Greetings from Tennessee" even though privately, he thought it odd for a Yankee to be buried in the South. He worked in his garden and gave away more than he ate. He loved his Tennessee woods, the creatures there, and he loved his country.
Rest well soldier. Your service to this world is done.
Private services will take place at Shackelford Funeral Home in Selmer Tennessee, with a public memorial service in the future. In lieu of flowers, please send donations to American Legion Post 243, c/o Joel Pipkin, P.O. Box 151, Scott's Hill TN 38374; Court Avenue Cumberland Presbyterian Church, 234 West Court Ave, Selmer TN 38375; or the Ninth Infantry Division Association, c/o Mary Cooper, 11218 Timberline Rd., Houston TX 77043-4641.